Most people dream about becoming self-employed and quitting their jobs. In addition to financial rewards, there are many health and psychological benefits of self-employment and working from home.
According to the State of Independence report from MBO Partners, 79% of independent workers are happier being self-employed; 59% of independent workers also reported that they were healthier than if they held a traditional job.
There's a huge surge of self-employment in recent years. Millions of people have left their jobs to go into business for themselves.
Your work is going to fill a large part of your life, and the only way to be truly satisfied is to do what you believe is great work. And the only way to do great work is to love what you do. ~Steve Jobs
Having a job is not fulfilling for most people. Most employees are frequently stressed out. Some are unhappy and burned out. Others step out and start their own business because they have been laid off, restructured, demoted, under-valued, discriminated against or bullied at work.
Working in a job you hate is an assault to your spirit as well as your body. It can suck the life out of you and crush your soul. It can lead to a 9-5 sort-of-dying instead of contributing to a richer, more meaningful life.
Having a job is no longer as secure as it used to be.
Building financial independence for yourself and your loved ones is one of the best ways to have a secure future. By becoming self-employed, you can empower yourself to take charge of your own financial security.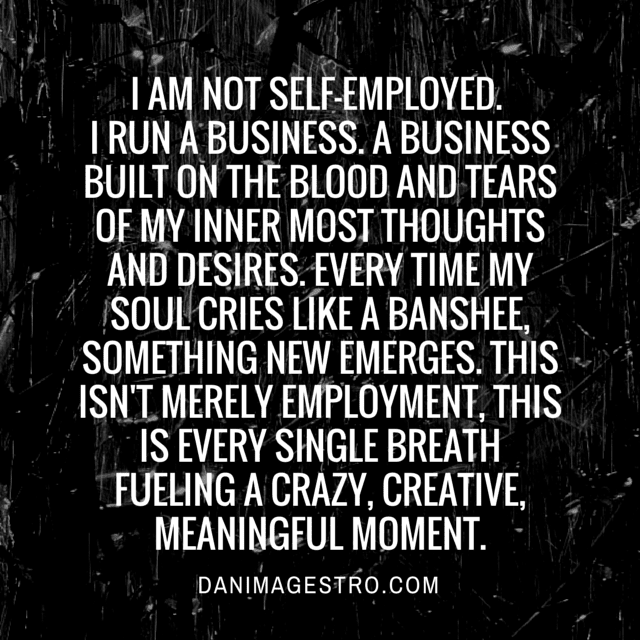 Credit: Dani Magestro
6 Benefits of Becoming Self-Employed and Making a Living From Home
Becoming self-employed and making a living from home can have psychological as well as financial benefits:
You can get out of the 9-5 rat race and reduce your stress.
You can stop dealing with office politics.
You can stop commuting to work and dealing with stressful traffic jams.
You have more control over your ideas and the work that you do.
You can have time flexibility and more opportunities to spend quality time with your loved ones.
You can take some time off whenever you want — for as long as you want.
Making a Living From Home Can Reduce Your Stress, Risk for Heart Disease and Other Diseases
Becoming self-employed and making a living from home can significantly reduce your stress as well as your risk for heart disease and other stress-related diseases.
Did you know that there is a higher incidence of a heart attack in the morning hours? The highest incidence of heart attack happens between 6 am to 12 pm. When it peaks at 9 am, there's a three-fold increase in the frequency of heart attacks compared to 11 pm with the lowest frequency.
Maybe it's just coincidence that most heart attacks happen at 9 am when most people are beginning their workday. However, studies have shown that chronic stress can have a significant effect on the heart — sometimes the consequences can be deadly.
Compared to having a traditional job, self-employment offers more flexible work hours. This flexibility can lead to more free time and better quality of time available to spend with loved ones. In turn, this can lead to greater happiness and life satisfaction.
Success is doing what you want to do, when you want, where you want, with whom you want, as much as you want. ~Anthony Robbins
Tips On Becoming Self-Employed
Even if self-employment doesn't make you a fortune, it can bring enough financial abundance to achieve contentment as well as freedom from financial stress and worry.
The psychological freedom you can get by becoming self-employed coupled with financial and health benefits can help you live a happier, healthier and richer, more satisfying life.